Single Door Coolers Troubleshooting Guide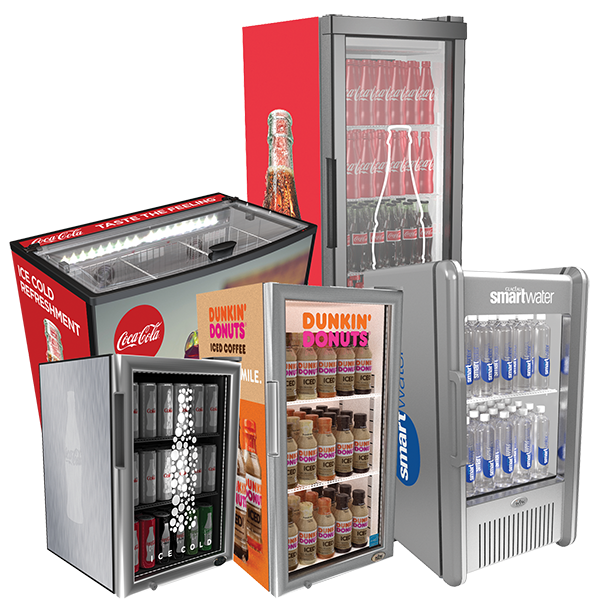 IDW's proprietary coolers come in a wide range of sizes and dimensions to fit specific in-store or retail environments. Our Coca-Cola drink coolers are designed to meet The Coca-Cola Companies most rigorous technical standards for performance, reliability and serviceability. Our products provide Coke's bottlers and retail partners with high value solutions that provide consistent merchandising, brand presence, and maintain ideal product temperatures in a wide variety of retail channels. Designed to quickly and efficiently pull-down and maintain the optimum temperature to satisfy consumers immediate consumption demands.. Each component is designed to withstand the day-to-day rigors of the retail business to maximize profits and minimize downtime due to technical issues, while promoting easy maintenance and service.
IDW G-Series coolers exemplify our commitment to sustainability and eco-friendly practices. The exclusive use of HFC free refrigerants, Energy Efficient compressors and components and the use of LED lighting maximize performance, while greatly reducing the energy consumption and life-costs of operation. IDW's proprietary LED logo glass doors and LED interior lighting efficiently illuminate the interiors and draw attention to high impact graphics generating optimal marketing opportunities and increasing sales. These Coca-Cola beverage coolers also include high density cyclopentane insulation, keeping the cold in while keeping warm air out. This minimizes air leakage to maintain energy efficiency. All of our Coca-Cola refrigerators meet DOE 2017 standards, and most are Energy Star qualified and conform to NSF-7 level 2 standards.